---
Tom and Lisa Butler are EVP and ITC researchers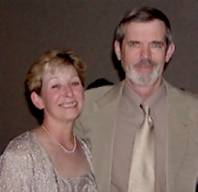 In November of 2001, the Butlers began experimenting with ITC and the first images started appearing from the other side shortly after that. They use the Klaus Schreiber video feedback method to receive their ITC images. They use a Canon 8mm ES2000 analog camcorder that is (most often) set about six inches from a 20 inch Sony color TV that is not connected to an antenna or cable. They have received ITC pictures when focused past the screen surface as well as when focused in front of the screen. The video is downloaded into a computer for viewing. Each of the resulting video frames is examined and interesting ones are "grabbed" to be further examined and edited using photo editing software. The ITC features are cropped out of the video frames and enhanced by changing contrast and brightness. Their ITC images are found at all four rotations of a video frame.

| | |
| --- | --- |
| | The first example is of a man's head. Although it is difficult to distinguish where the background noise ends and the man's hair begins, it appears that the man has long hair. There is light reflecting from his nose and part of his scalp. |
| | You should be able to see the head of a man in the second image. In this case, the man appears to be wearing a hat that may be ceremonial in nature. The Butlers have collected many people in ITC who appear with a hat. |
| | In this image, you can see a man holding a small dog in his right hand. The man's face is distorted, something common in the Butlers ITC, as it seem the communicating entities sometimes have trouble synching with the video frames. |
---
The Butlers have been receiving EVP voices for over 14 years. They use just about any portable audio cassette recorder handy, with an external microphone and various background sound sources, such as radio static and foreign language crowd babble. The sound tracks are reviewed in a computer using Cool Edit.

As an example EVP, "Test, open the channel,"

was recorded in response to the question, "Is the channel open," at the beginning of an experiment using a Marantz PMD 221, a Radio Shack mic and crowd babble for background noise. The EVP has been filtered in Cool Edit.

In a second example, an entity offered the opinion that, "There's a synergy,"

right after Tom states during a brain-storming session that, "Singing for transfiguration (a transfiguration mediumship session) is similar to background noise for EVP. In this second example, a Panasonic RR-DR60 digital IC recorder was used with ambient background noise. The EVP has not been filtered.
---
Plans for the future

The AA-EVP has published There is No Death and There are No Dead as a tool for people who wish to learn about EVP and ITC and how to collect examples of these phenomena for themselves. You can find out more about this book at http://book.aaevp.com.

The AA-EVP is also sponsoring a Conference on EVP and ITC June 3 through 6, 2004 at the Club Cal Neva in Reno, Nevada. The theme is "Communicating with the other side" and amongst the presenters are Mark Macy, Anabela Cardoso, Dennis Hauck, Tom and Lisa Butler, Sarah Estep, Erland Babcock and Robert Egby. You can learn more about this conference at http://aaevp.com/conferences/aaevp_conference.htm

December 23, 2003



Источник: http://www.worlditc.org/h_13_aa-evp.htm
Категория:
Зарубежные исследования
|
Добавил:
kozumimen (17.04.2015)
|
Просмотров:
300
|